Repositionable Detent Knob

for Guitar, Bass, and more
•
the patented design lets you put a detent at

any knob position

with a flip of a switch
•
The patented design lets you set a detent at

any knob position

with a flip of a switch. Feel the knob click into place when you turn to your setting!
That Klick Knob - The First Ever Repositionable Detent Knob
---
That Klick Knob - The First Ever Repositionable Detent Knob
---
That Klick Knob - The First Ever Repositionable Detent Knob
---
"The fact that you can quickly move the detent is amazing. With so many variables (the amp, room, pedals, my mood, etc) what sounds great today may sound just ok tomorrow ... having that flexibility is what makes this so special"
-James, Missouri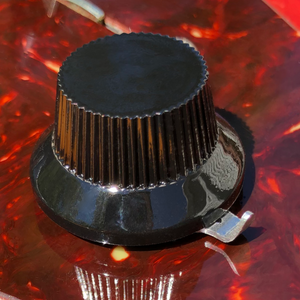 "Essential for live playing - I can crank it for a solo and then turn right back to my rhythm tone just by feel instead of using my ear; I don't miss a beat !"
-Rick, Tennessee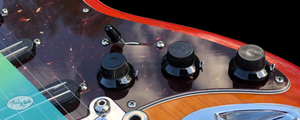 ⎯⎯
EASILY MARK A SWEETSPOT

EASILY RETURN TO IT

• you rolled back the knobs and dialed in a sweetspot- whether its just shy of breakup, cutting some highs, cleaning up some dirt, etc.

• ..but then you want to turn up to solo..or turn down for silence..or the knob gets accidentally moved..

• if only there was a way to mark & save that setting, allowing you to instantly refind it, so you didn't have to search for it every single time you moved a knob.

➔ enter that klick knob™ - save any setting with the quick & easy flip of a switch!

• it's operation is simple & intuitive- when you find a sweetspot, just push in the switch and the setting the knob is on will be saved. so now, when rotating you'll feel the knob firmly click into place as it arrives at that setting so you'll instantly know for sure that the knob is back at that exact sweetspot. the knob still retains full range of rotation with the switch engaged; it just clicks at that spot now.

• removing & placing the 'click' at a different setting is just as easy - simply pull out the switch & repeat!

• no matter where the knob has turned, the sweetspot is always just a click away!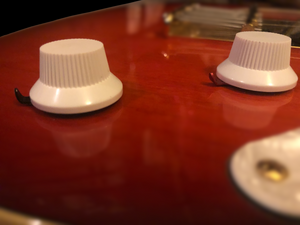 That Klick Knob™
✔ great for players who roll back the knobs to clean up their sound
✔ know exactly where your favorite settings are & quickly return to them
✔ fast switching between sounds mid-performance
✔ convenient for recording and mixing - rolled back level is consistent 
✔ adds function while maintaining simplicity
✔ perfect for aggressive strummers that tend to hit the knobs by accident
"My controls are super sensitive so any setting I like is always in a really tight window. Refinding it was always a pain. Not anymore!! "
-Steve, New York
Installation & Compatability
✔ all installation tools, hardware , & instructions included
✔ don't have to touch any electronics
✔ universal fit for most guitars (fender®, ibanez®, gibson®, etc)*
⟹ check out Compatibility to confirm fit before purchasing
Compatibility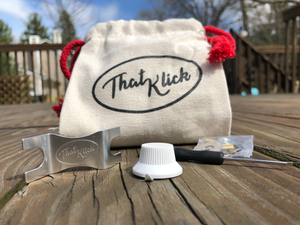 - NO QUESTION RETURN POLICY -

     That Klick Knob™ is deceptively simple - under the hood is a series of precisely machined metal components (not cheaply die cast or injection molded) resulting from years of research & development. Engineered to survive a lifetime of abuse, it's not just a knob - it's a tool.

      However if you're unsure if it will fit, if you'll like it, whatever the reason - don't sweat it. Just send it back within 30 days for a full refund, no questions asked. While we're positive you'll love it, we believe your experience is more important than any sale.
*knob must be returned in new & working condition in original packaging with all tools, accessories, and hardware. customer responsible for shipping.